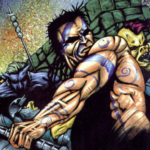 The legend continues… this week, we're proceeding north to Scotland for Book 2 of Isle of the Mighty. There's more of the same in terms of bizarre history section content management, NPCs who are intriguing and forgettable in equal measure, and a geography chapter that is surprisingly good! Even though in the balance, this section probably leaves more questions unanswered than we had when we started, there are some moments of true enjoyment scattered through. (Lookin' at you, Loch Lads.) It's heavier on the vignettes and side fiction than England was—but we'll take it in exchange for how the book completely skips over some of the country's more important centuries, in favor of talking about random changeling feuds that have no bearing on the game. A little of this, a little of that.
the usual suspects
Herewith our social media links for the podcast:
This might be the last time we include Twitter on the list, at least for a while. Stay tuned for more information about that…
And since we also talk about the Appendix and the ghille dhu in this episode, here's a link to Pooka's STV supplement on that very kith: https://www.storytellersvault.com/product/381967?affiliate_id=3063731
…
scottish media
Again, here are some media items from north of the border to help you get a feel for the environment and ethos, if you're planning to run a Scotland game. Some are listed and discussed at the end of the recording, and others fall into the "damn, should've mentioned that one too" category. We trust once more that you've enough
Films: Brave, Braveheart, Highlander (but not the sequel, eesh), Loch Ness, Macbeth (several versions), The Prime of Miss Jean Brodie, Rob Roy, Trainspotting (and okay, why not the sequel), The Wicker Man…
TV: Gargoyles (partially), Monarch of the Glen, Outlander…
Literature: the poems of Robert Burns and Carol Ann Duffy, Knots and Crosses, Lanark, Diana Gabaldon's Outlander novels (on which the TV show is based), Trainspotting (the novel), The Wasp Factory (content warning!), Witch Wood…
Music: Albannach, Bannal, Capercaillie, Clann an Drumma, Mouth Music, The Proclaimers (although "I'm Gonna Be" was likely a Banality trigger for a while back in the day), Silly Wizard, Tannahill Weavers, The Waterboys, Wolfstone…
One exception to the "go find it yourself" rule is this album of waulking songs by Bannal, who are decidedly un-Banal. It's a group of ladies making cloth in the traditional Highland way, accompanied by the old melodies and versifications that have a distinctive and beautiful sound. Give it a listen at https://www.youtube.com/watch?v=R9qsGKWZ6HU:
…
caption this
Just one image to share this time, and it's hardly a pin-up. We're still trying to figure out who these characters are, what kith they're supposed to be, and what their story is. A green-tinted hornless troll and his ghoul redcap friend? Two mortals under a mysterious curse? What even is going on with the sun in this picture? We're at a loss, so feel free to send your suggestions.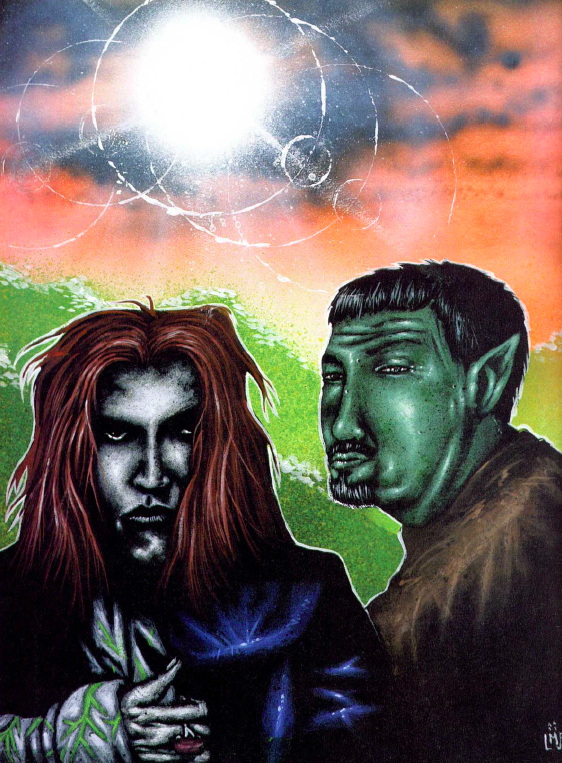 …
your hosts
Josh Hillerup (any pronoun)'s tartan is a crisscross of every color you've never heard of, and then a few more.
Pooka G (any pronoun/they) defeated Mangar, but is still trying to find the way out of Skara Brae.
Should auld acquaintance be forgot
And never brought to mind?
Should auld acquaintance be forgot
And auld lang syne?
—Traditional song, adapted by Robert Burns