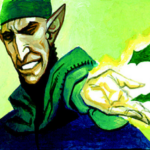 It's been a while since we had one of our inspiration episodes, where we take a look at material outside of the CtD canon that we find helpful for grokking the themes of the game. We've had novels and spoopy novels, but in this episode (#THE ANSWER) we're turning to graphic novels and other visual narratives of the comic form. A professor might say, pairing text with image creates its own kind of media experience for the reader, tickling a particular set of imaginative centers in the brain that are good for conceptualizing the intricate mytho-fictive narratives of the game. But more simply put, MOAR COMIX BETTER GAME. (And even if you don't think of yourself as a "comics reader," these are worth a look.)
The full list:
Neil Gaiman with various artists, Sandman (and assorted spinoffs) — the original fan annotations website is archived here, but there is also an official Annotated Sandman out from DC
Kieron Gillen and Stephanie Hans, DIE — and see the tie-in roleplaying game here!
Jack Kirby and Stan Lee and so many others, X-Men
Marjorie Liu and Sana Takeda, Monstress
Winsor McCay, Little Nemo in Slumberland (and variations on the title) — in the public domain, so you can see many of the old strips (along with the excellent Krazy Kat) at the Comic Strip Library
[bonus! Jamie McKelvie, Suburban Glamour]
Alan Moore, Watchmen — there was a film adaptation and everything, but here's the 80s cartoon the world deserved
Brian K. Vaughan and Fiona Staples, Saga — we're not going to link to merchandise websites, but you can get resin statues of plushies of the Lying Cat, if you so desire (and really, why wouldn't you?)
Chris Ware, Jimmy Corrigan, the Smartest Kid on Earth
Bill Watterson, Calvin and Hobbes
Bill Willingham and (mostly) Mark Buckingham, Fables
And then as usual, another list, where you can rail about how right or wrong we were about this list (although take note—limiting ourselves to eleven was tough, and we acknowledge there's a lot more out there):
If you join our Discord, feel free to send us your suggested stats for Hobbes the Lycian, or vote on which sidhe Houses you think Xavier and Magneto would fall into, or just talk about the episode to your hearts' contentments.
our hosts
Josh Hillerup (any pronoun) often trips over speech balloons and tumbles through the fourth wall.
Pooka G (any pronoun/they) defies the square panel as a convention of story-binding, favoring instead the trapezoid.
"Let's see if we can call time on this trend by demanding and creating big, wild comics which stretch our imaginations. Let's make living breathing, sprawling adventures filled with mind-blowing images of things unseen on Earth. Let's make artefacts that are not faux-games or movies but something other, something so rare and strange it might as well be a window into another universe because that's what it is."
—Grant Morrison