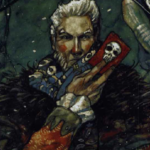 Episode 20! It's pretty amazing that we've made it this far, given how hectic life has been over the last few months. But as autumn (just regular, lowercase-a autumn) sets in, and we have time to center ourselves a bit, we're trying to get things in order to keep bringing you Changeling content into the coming seasons. To that end, this week we're talking about Court of All Kings, the third supplement in the Immortal Eyes trilogy of setting/chronicle books, which focuses on Ireland and the fae one finds there.
(A note from Pooka: I feel a bit of a fool, because I didn't realize that the lengthier show notes were getting cut off on certain podcasting platforms. Hopefully folks who were interested went on to the website in order to see the rest of what they were after, but in the interest of making everything visible to everyone, we'll try to keep things trim, or at least put the important stuff "above the fold" from now on… so for example, here's the link to our Discord: https://discord.gg/SAryjXGm5j)
videos in gaeilge
In the episode, we referenced an example of a monolingual Irish speaker interviewed for a documentary a number of years ago… and behold, the video. It's from In Search of the Trojan War, from 1985; the connection they make is that Irish storytelling in the oral tradition has a number of features that link it with other forms of Indo-European epic. The storyteller, Seán Ó hEinrí, passed away in 1998 and is thought to have been (possibly) the last monolingual speaker of the language.
(There are plenty of other videos on YouTube if you're interested in the language and its contemporary usage. Several series of the soap Ros na Rún are on there in their entirety, and the documentary No Béarla is a pretty stark demonstration of how few people in Ireland speak Irish.)
…
salmon of knowledge
The sculpture known as The Big Fish in Belfast is reminiscent of the mythological salmon of knowledge: a fish who ate the hazelnuts of wisdom that fell into its pool, and was then eaten in turn (most myths say by Fionn MacCumhaill/Finn MacCool, first leader of the Fianna). Its tiles are printed with old photographs, children's drawings, snippets of maps and newspapers, and other fragments of Belfast culture: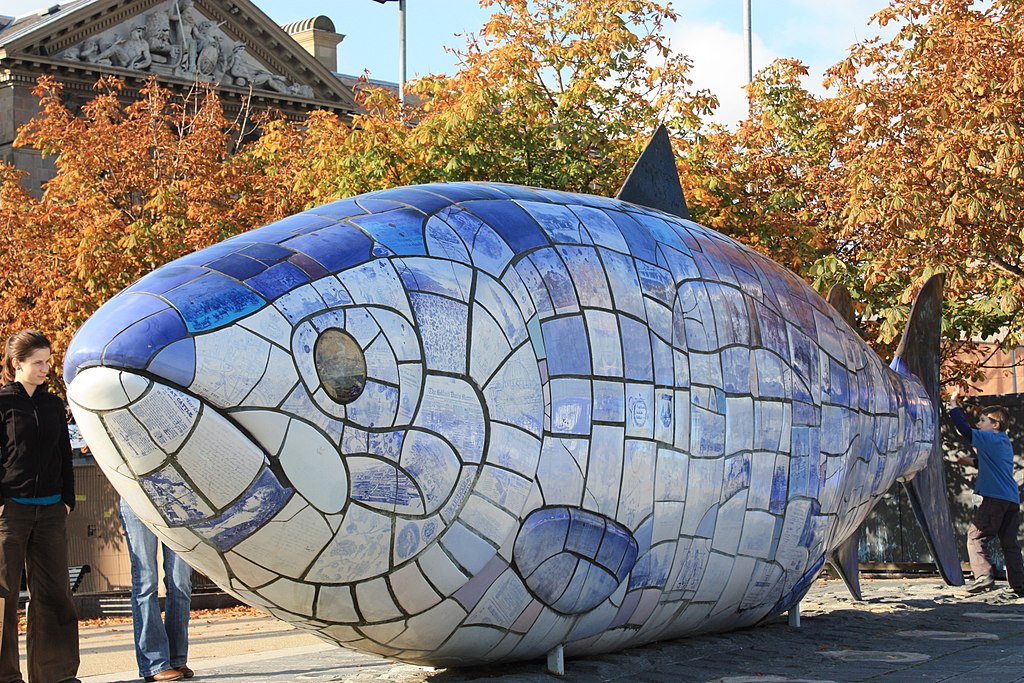 They say that kissing the fish grants one a bit of wisdom, much as kissing the Blarney Stone gives you the gift of the gab. (We can neither confirm nor deny these rumors, but please do rinse your lips carefully if you try.) In Changeling terms, this does seem like it would be some kind of powerful chimerical entity… a poll shall be posted in the Discord (link below) to decide!
…
ciarán's playlist
In a recent play-by-post game, Pooka had a character who was a Daireann sidhe named Ciarán that kept a "cauldronhouse" (freehold) in trust for the House, disguised as a pub in Dublin. As a character-building exercise, they created a sample playlist of songs to help set the mood. While this barely scratches the surface of the enormous variety of Irish- or Celtic-inflected music out there, it's presented here for your enjoyment, perhaps to listen to while you skim Court of All Kings—just hopefully not while you're also listening to the episode. No idea if a Spotify embed will even work on some platforms, but let's find out…! (Feel free to put this on shuffle as well, the order is pretty flexible.)
…
your hosts
Josh Hillerup (any pronoun) found an eighteen-leaf clover the other day, and it turns out, there is such a thing as too much luck.
Pooka G (any pronoun/they) once climbed a statue of the púca goat in Killorglin, and the very earth shook with unbridled delight.
…
Is fearr Gaeilge bhriste, ná Béarla cliste. (Broken Irish is better than clever English.)
—Irish proverb
(psst! email us at podcast@changelingthepodcast.com if you want)
(support us on Patreon for additional treats at https://www.patreon.com/changelingthepodcast!)