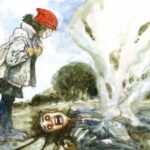 This week we're talking generally about horror as a genre for tabletop, and in particular how to make it work for Changeling. As a game, it has a reputation for being too light and fluffy for the World of Darkness; we beg to differ. Given that its purview is literally anything imaginable, all manner of horror can be worked into its fabric, even if it's not necessarily "meant" to be all about that. We take the opportunity in this episode to share opinions and ideas on that subject. It's kind of a wide-ranging discussion that we half-improvised, touching on (among other things) the importance of safety tools; differences between film and RPGs when creating a horror atmosphere; body horror vs. Gothic horror vs. psychological and cosmic horror; Bedlam, Banality, and nightmare; some media inspirations; and more! Hopefully it will help you generate some ideas for your chronicle if you're thinking of going in an eerier, more uncanny direction…
Some places where you can send feedback and/or support include:
Otherwise, not much to report! But only one more week until Samhain/Halloween…
…
your hosts
Josh Hillerup (any pronoun) is unsettled by the over-abundance of geese in the neighborhood.
Pooka G (any pronoun/they) feels discomfited by the rather limited coffee selection in your kitchen.
"Give [the audience] pleasure—the same pleasure they have when they wake up from a nightmare." —Alfred Hitchcock