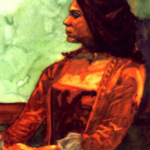 Greetings, all! This episode is dropping a bit later than anticipated, because it's our longest yet, but also one of our most important. Today we're talking about Changeling's version of the Nunnehi, the Indigenous fae of Concordia whose presentation has been a mixed bag over the editions. We're not focused on a particular book, since they appear throughout the line, but the 1st edition Player's Guide, the Werewolf supplement Rage Across Appalachia, and the 20th Anniversary Edition corebook all get some attention. We have three guest hosts for this installment, and technology was as much a bugbear as ever, so we ask that you bear with us through the remaining unresolved audio issues for an excellent discussion.
Our usual candy-box of social media links:
The intermission track used in this episode is "Please Calm My Mind", by Oleksii Kaplunskyi.
this episode's guests
Wahde ᏩᏕ Galiswegi is an Indigenous gamer, Cherokee Language revitalizationist and traditionalist, with a background in Cherokee ceremonial Ian and spirituality.
Liam ᎬᎮ McAlpin and Ia ᎪᎳᏄ Bull are both Cherokee language revitalizationists from the Cherokee Nation in Eastern Oklahoma. Liam is going for a BA in Cherokee Language Education and Creative Writing while Ia just started a PhD in Information Studies, with a background in archives. They are from Tahlequah, their family is from Adair County, and they are members of ᏌᎶᎵ ᎤᎾᏓᏢ ᏂᎦᏘᏲ, ᎦᏚᏩᎩ/Cherokee ceremonial community.
…
media and other resources
Some works that might be inspirational and/or educational for you:
This is just a quick handful of sources that came up in our discussions, both on-mic and off. But there is a wealth of media out there by Native American and First Nations creators to explore, and we strongly encourage you to go out looking for more (with the caveat to always be mindful about what you find, the context in which it was created, and how you engage with it).
…
your hosts
Josh Hillerup (any pronoun) was recording this episode from unceded territory in Anishinaabewaki.
Pooka G (any pronoun/they) was recording this episode from unceded territory in Lenapehoking.
That first cry opens the earth door.
We join the ancestor road.
With our pack of memories
Slung slack on our backs
We venture into the circle
Of destruction,
Which is the circle
Of creation
And make more—
—Joy Harjo, "Memory Sack"